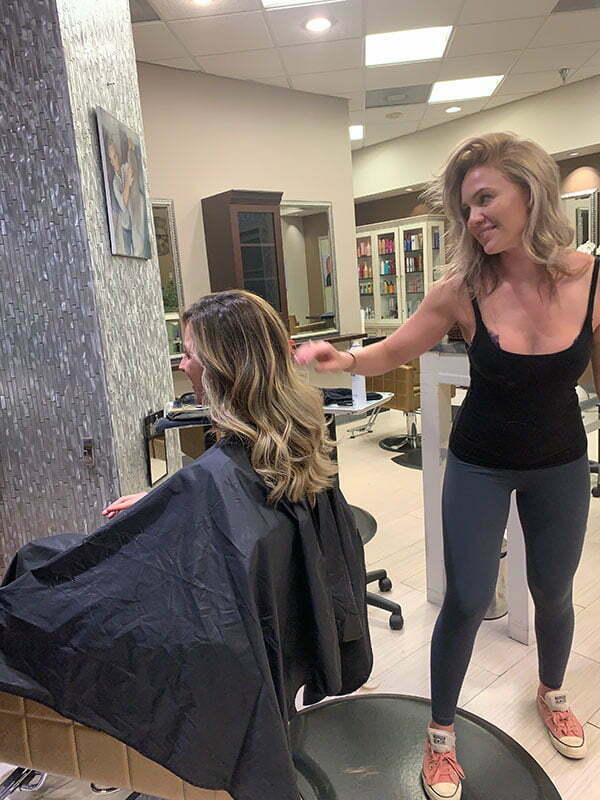 Given the current situation i.e. coronavirus health crisis, we don't have the luxury of visiting a salon to pamper the hair and give it a proper treatment. Salon Vo- a trusted and renowned salon in Denver, wants to let you know that you are all in our thoughts. We would like to continue our support during this difficult time to help take care of your precious hair with some hair care tips.
Stay home and do not forget to take care of yourself
Just because you are at home all the time now, do not forget the importance of self-care. Even though professional care is important to take care of certain hair damage issues, you must make sure to understand that you don't have this luxury now. During this time of uncertainty, we must take care of each other and your hair. Keep yourself pampered with your daily beauty routine and hair care routine. This will help you feel like yourself and get through this difficult time.
1) Massage your scalp with hair oil
Natural hair oil can many wonders than you know. Applying hair oil is good for the scalp's health, hair health, and texture. Hair oil can also help in reducing hair fall. It's necessary to massage your scalp once in a while to improve blood circulation. You can massage your scalp gently with hair oil that's usually suitable for your hair. Try this method before shampooing your hair.
2) Wash your hair with lukewarm or normal water
Do not wash your hair with either extreme cold water or hot water. It actually can strip your hair of essential oils and make your hair dry. So, when you step into the shower to wash your hair, adjust the temperature. Bring the water to normal temperature or keep it lukewarm. When you are having a steamy shower, make sure to cover your hair cap.
3) Shampoo and condition correctly
Chances are you already use a shampoo and condition that are suitable for your hair type. When shampooing your hair massage your scalp gently. Repeat the same process when conditioning your hair as well. It's important to shampoo and condition your hair correctly in order to experience the optimum result. Don't handle your hair too harshly; instead, try the gentle method to keep your hair at its best condition.
4) Rinse your hair thoroughly
When you are done with showering and shampooing your hair, comes the rinsing part. It's necessary to rinse out thoroughly and gently to remove the product that can make the result less effective. Thus, make sure to rinse your hair thoroughly after showering.
5) Dry your hair with extra care
When dealing with rough hair or damage-prone hair, it's important to handle your hair as gently as possible. Likewise, dry your hair very gently post-shower, whether it's with a soft towel or a cotton towel. Wait till the towel absorb the excess water.
6) Ensure protection to the hair before heat styling
Most women use heat styling tools to style the hair and you use the hair styling machine often. But excessive heat styling can do some serious damage to the hair. The ideal solution would be applying a protective product first prior to heat styling, whether it's for blow-drying, curling, or straightening your hair. The hair protection product will keep your hair protected from potential hair damages that are usually caused by heat styling.
7) Trim your hair to prevent get rid of split ends
As much as you love your hair and care for your hair, split ends are inevitable. They cause hair fall and promote unhealthy hair growth. As professional hairstylists, we understand how annoying it can be when split ends occur and what extent of damage they can cause to your precious hair. Hence, we would recommend trimming your hair once in a while to get rid of the pesky split ends.
8) Eat right
Eat right and keep your hair hydrated. Eat foods iron-rich and protein-rich foods such as spinach, green vegetables, eggs, nuts, whole grain, and low-fat dairy products. In simple, eat all the foods that promote healthy hair growth and can keep your hair always healthy. Also, drink plenty amount of water and fresh fruit juice to keep both your hair and skin super-hydrated.